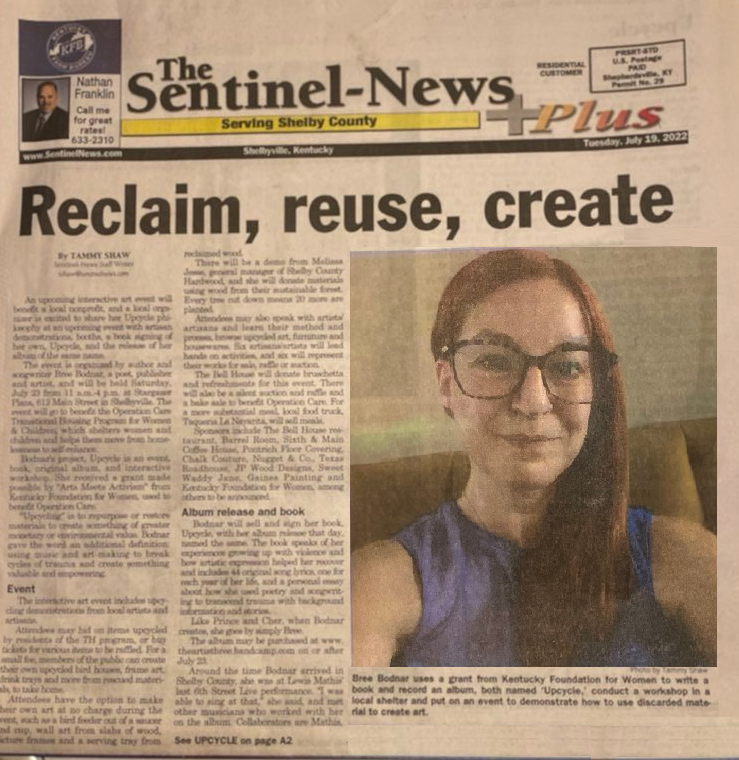 The Upcycle event at the Stargazer Plaza on Main in Shelbyville raised $2015, which is amazing because it was near 100 degrees. This was why almost all of the action took place between 11 am and 12:30 pm. Monies were raised through sales of upcycled art and furniture, raffle tickets, books, locally baked goods, musical performance, and various tip jars situated near the food donated by Chef Brent at The Bell House, and at the demonstration booths run by Sheila Fow and Melissa Jesse.
There was a page and a half article about the event and my vision for it that ran twice in The Sentinel News – once for subscribers, and a second time for every country resident. This was the reason many attendees cited when i asked what brought them to the event. One woman said she wanted to make art, and another had brought a broken bird house she wanted help mending, and upcycling.  Some came for the raffle, and most all said they were in support of Operation Care, and the women in their transitional housing program. Folks of all ages lent a hand- one 9 year old girl raised $21 for Operation Care by making and selling lemonade.
I am satisfied with the monies and awareness raised- considering that being outside in the heat was the last thing most bodies desired. Had it been a more temperate climate, many more people would have come along to see what we were doing. The notion of upcycling as art-making to break cycles of trauma and make something valuable and empowering was imparted to the public by the artisans and other volunteers, and I was able to meet many allies from the greater community.