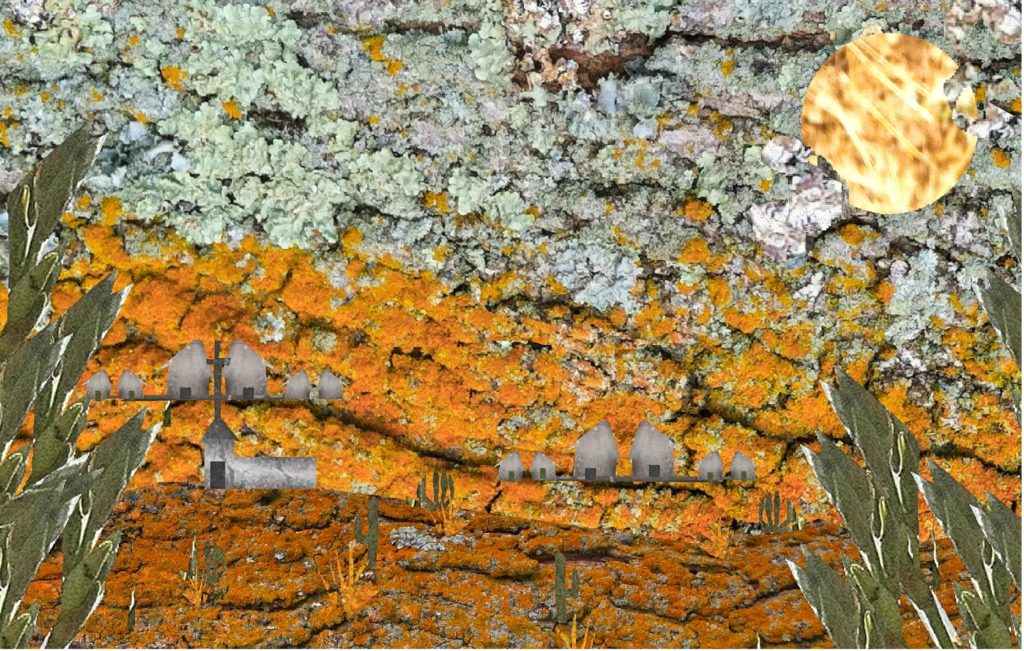 detail of Ghost Town of Terlingua, TX 6.16.16 (Collage made from two photographs of tree lichen bark and a mail box in Cropper, KY, made on Paint) ; i decided to make it its own piece as well, called Just Terlingua, TX for R Jay 6.16.16 because he particularly like the buildings.

Sixth & Main Coffeehouse sells new and used books, and has a monthly Artist showcase. My books and art will be on display for sale for three months. June 18th-July 18th my art will be on the featured wall. Then it will be moved to the wall that has all the book cases.
The day i brought my canvases to hang as June's featured artist, i told one of the owners, Kathryn, i would not hang any she didn't want me to hang. She told me to hang all of them. However, two customers in the next 24 hours made comments, so she let me know she took down 'Gardening' and 'Echo', and told me, "I left all the breasts," "breasts are okay," she laughed.
This is my first Kentucky art show. It is the second of my life. The day of my opening, i sang outside afterwards as part of a street fest with a new band i formed here, called Affluenza. (Because everybody's got a touch). i have been writing songs for more than half my life, and singing for a third of it. i was also told one of my songs would be inappropriate for Shelbyville, as there would be kids around. these are the lyrics:
afraid i would lose my poetry buzz,
i smoked weed.
afraid i would lose my weed buzz,
i drank some beer.
afraid i would lose my beer buzz,
i sat down and thought about
you, and what's not fair,
like done is done,
and you've not won.
your one true maiden i am,
you are my long lost sailor in arms.
we are each others jailer, bail bondsman
and lawyer.
but unlike the law you know we've been
true, and i dont ever want to lose
that buzz,
that me and you.
since children would be at the event i understand why it would be inappropriate. generally i sing at bars, galleries or simply night-time events children dont populate.
yesterday and this morning i drew a series i surely would not expect to be hung anywhere but a private gallery. i have used social media to solicit comments about a female artist working with nude studies.  (p.s. i need to look for the nude studies 'market,') ::::